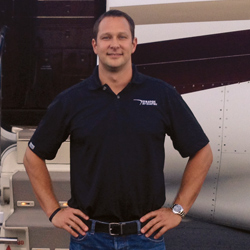 Joel Thomas says Stratos has its own emergency response procedures
"Houston, we have a problem" – how to ensure the smooth fulfilment of charter business
If only it were possible to charter a business jet in the confidence that nothing, absolutely nothing, could go wrong. The vast majority of flights will be successful – they will take off and land on time, the journey will be smooth, connections will be met and no paperwork will be lost. But there is always a slim chance that something will throw things off course. And when that happens, there will be a high net worth client demanding that the problem be resolved immediately or you risk losing their business in the future.
So what does one do? One shouldn't wait until something goes wrong before deciding on a plan. Don't be caught unawares. A well-prepared broker should have contingencies in place. When your client steps on to the apron only to be told that there is a slight delay with the arrival of his Challenger owing to a circuit problem discovered in the radar system that may or may not be resolved within the next few hours, you should really have something up your sleeve.
Andy Christie of Air Charter Service says: "In aviation, it is impossible to guarantee that nothing will go wrong. An aircraft may develop a fault, extreme weather may render it unsafe to fly, or knock on effects of other aviation activity will cause delays. Our job is firstly to minimise risk and secondly to put all available resources into finding a quick solution when things do go wrong.
"A small problem such as an inbound positioning delay due to bad weather can be spotted early if you have the right procedures. By finding out the full schedule of the aircraft even before it reaches the location where it will be picking up your passengers, you can check whether there will be any problems and warn passengers in advance. This way they don't leave for the airport until the aircraft has positioned. The same goes for airport closures. Just calling the airport 12 hours before a flight can give you a heads-up on potential delays.
"If a larger problem occurs, like a last minute technical problem, we would require our team to find an alternative aircraft as quickly as possible. Giving people their money back is simply not a solution in most cases. People need a replacement solution and fast. As ACS is a large company we can support finding and paying for replacement aircraft should it be necessary." Christie points out that verbal contact with potential suppliers is often vital: "The key issue for last minute flights is finding the replacement aircraft and that is often a case of hitting the phones to get quick answers as operators don't always update their schedules to feed all the online systems straight away. Emails are also not replied to as quickly as a phone call so getting all our brokers on the case means we can find a solution quickly."
Jane McBride, ceo of Avicus Group, air charter brokers in Shanghai, China, says: "We develop a contingency plan for each trip which includes sourcing back-up aircraft and working with the operator to ascertain what resources are available in the event of a mechanical delay. Our duty manager monitors the weather forecasts in advance. Since aircraft are machines and machines occasionally break, our role is to ensure seamless communication with our client during any delays.
"While some clients can accept the reality of a four-hour delay due to snowstorms shutting down airports, other clients 
can become distressed over being served the wrong kind of sandwich. Our job is to do our utmost to attend to every detail within our control and to anticipate solutions to problems that are beyond our control. For example, we had a client who disliked the colour of the interior carpet of the G550 he had chartered. We managed to swap the aircraft with four hours' notice – at no cost – to satisfy his taste."
Christie of ACS expands: "In the case of a disaster, our whole team pulls together to find a solution as soon as possible in a pre-planned way. The most extreme example of this was when the volcano in Iceland grounded all air traffic under the ash cloud which had spread over all of the UK and much of western Europe. This meant multiple aircraft grounded and multiple passengers stranded. This is when our disaster recovery plan came into place. We had our entire team in London (currently over 50 brokers) focussed purely on finding solutions. They spoke to hundreds of aircraft operators and were sharing solutions real-time worldwide through one person designated to collate all relevant news, availabilities and ACS activity with the entire group. So we were linking in charters for multiple clients from multiple offices.
"While many companies were switching their phones off as nothing could fly, we were flying passengers long haul to the edge of the ash cloud where they could either wait to get a shorter flight home or use land and sea transportation. We even had four or five brokers in London who slept in the office and didn't go home at all for 48 hours. I would say our reaction to that crisis was one of the most significant milestones in our private jet business as we won many clients who had come to us having not had a decent response from their existing supplier."
Joel Thomas, president and ceo of Stratos Jet Charters Inc in Florida, comments: "As an agent for private air travel, it is my responsibility to ensure the proper execution of every charter flight we book. In the rare occurrence that an aircraft we organised is unable to fly due to maintenance, Stratos would work to identify all available aircraft to fulfil the customer's travel objective. Our goal is to provide alternative options that will minimise delays and avoid any additional costs." Thomas adds: "Stratos has written emergency response procedures. Because of Stratos Jets' strict operator selection criteria, we've never experienced any form of disaster or injury."
On a day-to-day basis, the most important thing to do is try to reduce the impact that potential problems may present. Christie says: "The key is to have a personal account manager for each client who deals with every booking from the enquiry phase through speaking to operators, airports, handling agents etc. We often deal with ground transportation and heli transfers, again through the one point of contact. It makes the customer's life easier and that creates loyalty.
"You can have back up options, but the closer to the flight date you get, the more of these disappear, so we keep track of all the relevant aircraft in our IT systems and ensure we have them all to hand so we can set the ball rolling with booking a replacement aircraft as soon as there is a hint of a problem with the original aircraft. As a broker we have the world's charter aircraft available to us, so the question is simply how quickly can we find the available aircraft, get it booked and get it in the air."
At Chapman Freeborn they say that the nature of the aviation business means you always have to expect the unexpected. Alex Berry, group director of sales and marketing, says: "Experience has taught us to always have Plan A, B and C. In addition to corporate charters, we do a lot of work with the entertainment industry, music tours, movie launches, etc, and 
these tend to be multi-leg tours with no room for error in terms of schedules. Part of this means having the back-up operators on call to step in at any given time.
"In terms of flight monitoring, our service is 24/7/365, and the brokers are backed up by our own in-house operations subsidiary Wings 24. This is invaluable as it means there are always specialists on hand to make sure operational issues can be addressed immediately. These can range from ground handling and transfer arrangements, to diplomatic clearances and flight permits."
Berry continues: "It's important to choose a charter provider with a proven track record who can respond accordingly to provide alternative arrangements. The mark of a good broker is how they respond when it's not all going to plan. "We find that our clients like working with us because we can be relied upon at all times. In part it's about having a global network with broker teams who understand the local operating conditions, but it's also about having back room expertise in-house. "Multinational companies increasingly want to work with providers who have every base covered, from 24-hour operations teams to in-house compliance departments that understand the complexities of the contracting process," Berry concludes. So it seems, unsurprisingly, that forewarned is forearmed.
The key is to plan ahead, and to cultivate a network of industry contacts. Appointing personal account managers means that all the strands of the charter can be routed through one co-ordinator, delivering more seamless and efficient management. It's not rocket science, it's good charter brokering. The smoother the charter, the more likely your client is to come back for more.
Contact details