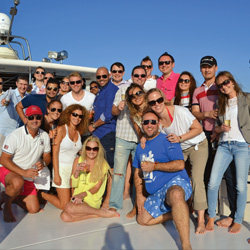 Brokers and customers gather for ExecuJet's day on the water
ExecuJet's MEBA platform: Cementing relationships in Dubai
There was a gathering of brokers in Dubai in December that provided an informal opportunity to strengthen relationships between different members of the aviation community. Held alongside the MEBA exhibition, ExecuJet hosted a day on the water for a number of its customers, who represented such companies as Chapman Freeborn, Assure Jets, Air Charter Service, Delta World Charter, Private Jet Charter and Apogee. This was the third such annual yachting day.
ExecuJet operations director Mark Hardman says: "The ExecuJet Middle East charter fleet comprises a good mix of aircraft, everything from a Lineage 1000, to a Gulfstream 450, a Falcon 900DX and a Learjet 60XR. The booking of these aircraft falls into two categories: private customers who book directly, and those who use charter brokers. The idea was to bring the brokers together, to thank them for their business and to get to know them personally."
Natalia Volokhina of Apogee says: "We really loved the day with all the guests. It was a lovely day, full of fun, with the opportunity to get to know new people and to strengthen relationships with old friends. From our point of view, such events are important and are useful for brokers as well as for the operators and handling service providers. Moreover, we at Apogee are also thinking of organising such events, as we see the potential use of them in several aspects of business."
Hardman continues: "A lot of business today is done over the phone or via email. It is always good to get to know people face to face and to build personal relationships. In business aviation, whether it's charter, FBO or aircraft management, the strength of personal relationships is really key. This was a gesture to show appreciation for their business, but also to spend a little time getting to know each other better at a personal level."
The hot Dubai sun beat down and guests were able to go fishing, get to see the Dubai skyline from another perspective, and spend a pleasant day away from the office. Hardman says this was the format for the previous two years, and he felt the success of those was repeated in December 2014. "The business of general aviation is a small one and within it there are a number of competitors. Brokers who, on a day-to-day basis, may be rivals do get on well together and actually form a pretty tight knit community. People move within the business, so today's competitor is tomorrow's customer. One of the reasons I have stayed in aviation for 28 years is because of the people. Industry colleagues tend to support each other, which I think is absolutely key."
The yachts bobbing on the waters of the Persian Gulf served as a reminder that there are ties between marine charter and private aviation, synergies within the two luxury markets in terms of end user and lifestyle. The ExecuJet event straddled both markets, but Hardman adds: "While it is a luxury day out, it's also a very simple formula; it is about having a nice chat, doing some fishing, enjoying each other's company and eating some good barbeque food."
Asked how important the invitation to the brokers was, Hardman replied that for ExecuJet: "It is really a thank you. Brokers are customers and customers have a choice, they can put their business with any company."
ExecuJet was also represented by Mireille Arabi from the Dubai office, and by Carla Soper and Simon Budden from the UK. "Brokers now know a number of people within our organisation and I think that builds confidence; confidence and trust being key," continues Hardman.
Ross Kelly, managing director of Private Jet Charter in the Middle East, reports: "This is the second year that we had the pleasure to be invited on the ExecuJet Yacht Day. It is a great day out, the weather is perfect at that time of year in Dubai. Not only do we get to meet the ExecuJet team but a host of other providers in the private jet industry. Meeting other charter brokers is also important for us. In this industry, having information on suppliers that we use is vital. Whether it is an operator, FBO, concierge or limo company, as a charter broker we all use these third party services, especially operators. It's good for charter brokers to come together and share their experiences, good or bad. Our clients are very important to all of us and to have prior knowledge of a service provider from others is helpful."
Kelly adds: "In December, one of our team had a flight operating in South America. Not being familiar with operators in this area they spoke to another broker who gave us some good advice about which operators to use or avoid. Although we are all competitors, we are also all in the same industry, striving to keep our business professional and creditable at all times and to help each other out when we can."
Terry Hughes, ACS account manager – executive jets, was also present: "l'd like to thank ExecuJet on behalf of ACS and my colleagues and say we thoroughly enjoyed the boat day and were happy to be invited again. We have similar events for our suppliers and colleagues and always find them to be a great success. We speak with ExecuJet on a daily basis via email or phone and have a good relationship with them, which was made even stronger by meeting everyone in person in a relaxed atmosphere and putting a face to a name. I look forward to doing more business together in 2015 based on this strengthened relationship, and hope to see them all again soon."
Looking back at the day's events, Hardman admitted wistfully that it could have gone better. "If only the sea had been little calmer and the fish had been a little hungrier… alas, that was all out of my hands"! That aside, it was a huge success, enjoyed by all who attended. Hardman was full of praise for the efforts of Mireille Arabi, head of regional charter sales for ExecuJet in the Middle East and key architect of the event.
Contact details