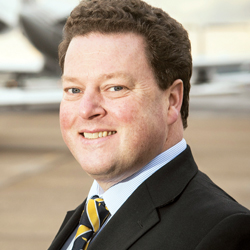 With CEO Dave Edwards at the helm, chairman Richard Mumford anticipates much progress on BACA's project work
BACA expects a politically interesting year
2017 was a fantastic year for BACA and we enter 2018 full of drive and enthusiasm to build on what we achieved last year. Under the able leadership of our CEO Dave Edwards, we are now able to really start driving forward on our outstanding project work, while ensuring that we stay in touch with the feelings of our members.
This is set to be a politically interesting year. Brexit has to take shape over the coming months and this will have a significant impact on the aviation sector. Our members work hard to keep on top of developments and will play a key role in helping the charter market to transition and settle into whatever the new regulatory regime might become.
It will be a year that presents a range of challenges, from disruptive technologies (both in the broking and operating markets) and cyber crime to the ever-changing political landscape. Brexit aside, there are a number of regulatory issues coming down the track, including the EU's new credit card charging rules and data protection regime as well as changes to UK money laundering regulations, to name but a few. BACA is working hard to deliver a range of training and events to help our members keep on top of these changes and to maintain the highest standards on behalf of their clients.
Our next upcoming networking events include the Spring Lunch on 25 April and our not-to-be-missed EBACE drinks, which will once again be at Mr Pickwick in Geneva on 29 May. Some sponsorship opportunities remain for these events.
Our charity for 2018 is fly2help, which organises flying experiences for children and adults with disabilities as well as helping young adults explore careers in aviation. We are working on some exciting projects to raise money and aware-ness for this worthy cause and I encourage all of our members to support the charity.
Richard Mumford, chairman, BACA
Contact details