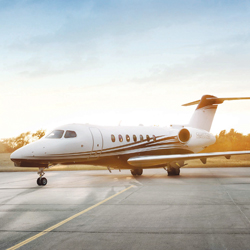 Textron Aviation's Citation Longitude elevates passenger expectations
New Kid on the Block: Citation Longitude
The Citation Longitude delivers a quiet cabin with low cabin altitude (5,950 feet) and a comfortable, bespoke interior. With seating for up to 12 passengers it features a six-foot high flat-floor cabin and its double club configuration allows the most legroom in the super midsize class. Seats are fully berthable and the walk-in baggage compartment is accessible in flight.
Natural light is plentiful due to 15 large windows positioned throughout the cabin. State-of-the-art cabin technology, including Bluetooth capability, allows passengers to manage their environment and entertainment from any mobile device, while internet connectivity maximises their productivity in-flight.
The Longitude has a range of 3,500 nm and a full fuel payload of 1,600 pounds. Textron is targetting FAA certification in the first quarter of 2018 with EASA certification to follow. The first European customer order comes from the Czech Republic-based Travel Service with delivery scheduled for next year.
Contact details