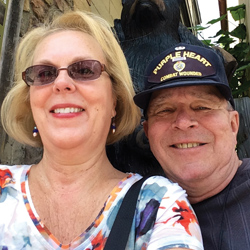 Laura Spence, here with her husband, blogged about PrivateFly's professionalism and compassion. Photo courtesy of Laura Spence
Satisfied PrivateFly client blogs her thanks for 'top notch' response
Laura Spence from Michigan, USA, had not chartered a jet before, but she recently had cause to come to the market for the first time due to unforeseen medical circumstances.
When her husband suffered an injury in Florida that required surgery the couple discovered that there was cancer in the bone as well as in many other parts of his body. It was aggressive, and after 12 days in Broward General hospital it became clear she had to get them both home to Michigan in the most comfortable and stress-free way possible.
A search online led her to PrivateFly where she spoke with Denison Usquiano who is based in Fort Lauderdale. The process of gathering information was started and when she knew her husband would be discharged that process was stepped up to full speed ahead. Usquiano and three colleagues worked all weekend to find a flight and soon she was signing contracts. "They answered my calls on the first ring, and updated me by phone and email as they searched for the right aircraft and the best bid," says Spence. The team even arranged for a Lincoln Town car to pick the couple up from the hotel and take them to the tarmac where Usquiano was there to meet them.
The flight lasted two and a half hour from wheels up to wheels down and the couple enjoyed inflight gifts such as several newspapers, a fluffy blanket, refreshments and a delicious fruit and dip platter. "Those wonderful folks at PrivateFly put smiles on our faces," she says, and she wrote about the whole experience on her blog.
"We were overwhelmed by the professionalism, compassion and attention to detail provided to us. After a very stressful hospital-isation this experience was 110 per cent positive. I can never fully express my gratitude to this awesome company and it was worth every cent to be home. The plane and pilots were top notch as well. Many thanks."
Sadly her husband died shortly afterwards, but she was pro-foundly grateful to the team at PrivateFly. It was through its own technology that the company was able to find the right aircraft, during a holiday weekend with limited aircraft availability, and make this important journey work for them both.
Contact details