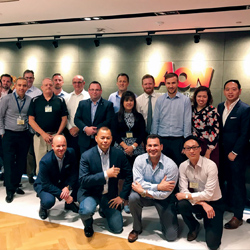 AsBAA Singapore committee meeting September 2017
Forging ahead
Since the AsBAA board of directors was elected in June the non-profit industry body has been active in government lobbying, member engagement and delivering a series of events and meetings around the region. AsBAA chairperson Jenny Lau says: "We can only truly represent the needs of the members through active engagement, listening and gathering feedback on issues. Then we can create plans to address these issues and roll out initiatives across the region.
"We have been busy meeting with our members at events and behind closed doors. We have met with government ministers, transport ministries, educational institutions, the media and other public bodies to advocate the benefits of the industry to those that can influence and enable its growth. We have also created a newsletter to engage our members in Asia and around the world."
AsBAA has hosted a number of regional committee meetings, the second in its CEO Series luncheons and other events in southeast Asia. At the CEO luncheon on 1 September at the Hong Kong Aviation Club in Kai Tak, Hong Kong, 55 CEOs and industry leaders met to discuss the issues affecting business and general aviation in Hong Kong. Government affairs specialist and principal aviation consultant of X Air Andrew Tse spoke on the history and development of general aviation in greater China while CEO of Airbus' new Innovation Centre in China Luo Gang explored the opportunities for the future.
In September the association also hosted around 25 of its members at a regional committee meeting in Singapore. Vice chairman Gary Moran says: "Southeast Asia is a key focus area for AsBAA. Singapore is a good environment for business aviation but there are challenges faced by all sectors of the industry here. Increasing AsBAA's visibility with the various ministries, the Civil Aviation Authority of Singapore and the Changi Airport Group will be crucial in ensuring that the contribution and value of business aviation is not overlooked. We plan to increase involvement and support from key business stakeholders and aircraft owners to make this possible.
"We are committed to rejuvenating and expanding the AsBAA membership in south-east Asia to effectively represent the needs of our members here. With this, we will offer regular meetings, an enhanced programme of events and support on pressing issues such as access, slots and safety at Seletar airport and in the neighbouring markets of Malaysia, Indonesia, Philippines and Thailand." AsBAA is also gearing up for its annual charity gala dinner, the Icons of Aviation Awards, Asia. The event will take place on 10 November in Hong Kong and seeks to promote corporate social responsibility in private aviation and to raise funds for the Orbis Flying Eye Hospital. It also celebrates excellence in 11 key industry categories. New for 2017 is the Trailblazer Award, designed to recognise the up and coming stars of the industry. For tickets, sponsorship opportunities or details of AsBAA events, please get in touch.
Jenny Lau, chair, AsBAA
Contact details