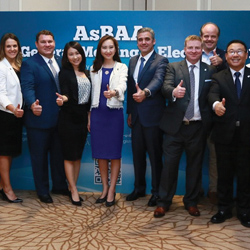 AsBAA 2017 elected board of governors including incoming and outgoing chairs Jenny Lau and Charlie Mularski, left and right of Amy Yang, communications, centre
News from AsBAA: Advocacy, representation and community
At the recent AsBAA AGM in Singapore, the Asian business and general aviation community voted for its new industry representatives and the departing board of directors Charlie Mularski, David Best and Kevin Wu transitioned into board of governor positions. The elections led to AsBAA appointing its first female chair Jenny Lau, and David Dixon, Gary Moran and Phil Balmer into vice chair positions.
We are working in the context of great challenges and great opportunities in our industry in Asia. For AsBAA, we will continue the good work of the previous leaders and drive the association forward on behalf of our members. AsBAA represents the needs of the industry as a whole in Asia and through it we can tackle our common challenges with greater influence. Aside from problem solving, being a member of AsBAA also offers opportunities for budget savings, networking and a resource for the latest industry news and market intelligence. We are very excited to continue to support the industry under our three pillars of advocacy, representation and community.
Advocacy
This relates to AsBAA's work promoting the image and merits of business and general aviation to key stakeholders. Under this pillar, in 2016-17, AsBAA re-launched and expanded its student chapter AsBAA Discovery, an initiative in which the association and its members promote careers in business aviation to students in the region. This was developed to help meet the issue of an ageing industry population and to secure new talent in the future. AsBAA also developed a new CEO series of quarterly meetings so that industry leaders can meet to discuss the most pressing issues affecting the industry, formulate strategies to address them and roll out action plans via AsBAA.
Representation
The AsBAA board of governors regularly meets with transport ministries and government bodies around Asia. The association has established itself as the region's representative, cooperative, solution-focused body that is trusted by governments to work through complex issues relating to infrastructure, noise profiling and safety standards. Governments, transport ministries and international bodies such as IBAC, NBAA, EBAA and the Royal Aeronautical Society partner with the association and call on it for localised advice and solutions.
In 2016 and 2017, AsBAA's influence under the representation pillar led to the removal of restrictive regulations for foreign registered business jet owners flying in domestic Indonesia; the streamlining of the slot coordination and apron operations at Hong Kong International airport; permission to perform maintenance tasks at remote bays at that same airport; the introduction of compact parking at Shanghai and Hong Kong airports; the expansion of hubs in the Pearl River Delta to include temporary CIQ at Zhuhai with commercial helicopter links to follow; and other regional success stories.
Community
AsBAA creates an online and real-life community for the industry to network in formal and informal events across Asia. It is a neutral space in which collective issues can be discussed and addressed, and intelligence shared.
In 2017, AsBAA will again host its flagship annual event, the Icons of Aviation Awards on 10 November at the Hotel Intercontinental, Hong Kong. The event has become a must-attend industry awards show in which Icons Awards are voted for across 11 key categories of business and general aviation. All the major industry categories are represented including best operator, best manufacturer, best business support services, best media and two very special awards that recognise the woman of the year and lifetime achievement. The Icons of Aviation also raises vital funds for the Orbis Flying Eye Hospital and promotes corporate social responsibility in the industry for a more positive image of private aviation.
Jenny Lau, chair, AsBAA
Contact details