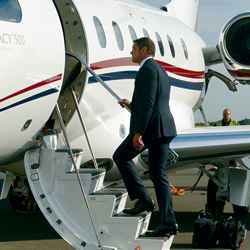 At ACE visitors can easily get onto the aircraft.
ACE 17: The main event for the business air charter industry worldwide
Air Charter Expo 2017 is BACA's first ever dedicated conference and exhibition. It will present top-level meetings, a line-up of the latest charter aircraft, a host of exhibitors and excellent networking opportunities in one glorious day that is a must-attend for all in the business air charter industry. The association is hosting ACE17 in conjunction with London Biggin Hill airport and with Charter Broker magazine.
Acting CEO of Avinode Oliver King is looking forward to meeting industry peers. He says: "The event has been put together in a great location, with the right people behind it. We have talked about this for quite a while, and we are looking forward to sharing our knowledge with, and also learning from, the industry during our morning session.
"BACA has been growing over recent years and it is trying to drive what is happening in the broker community across the UK and Europe. We are very happy to be on board. It is in all of our interests, and we are really looking forward to seeing what happens."
ACE17 is a 100 per cent business event, open to air charter professionals, aircraft owners, operators and suppliers, passengers and potential passengers. It is open from 09:00-17:00 and admission is free-of-charge. Entry is available by pre-registration only via the website – www.aircharterexpo.com.
Contact details