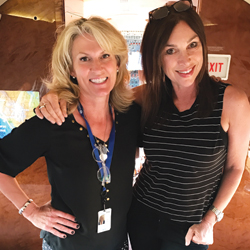 Leslie Ann Miller (l) and Kim Scolari make teamwork work for their celebrity passengers
Above and beyond: An offer of help gratefully received
As Kim Scolari approaches her 20th year as a private jet broker and owner of California-based Jet Productions Worldwide she takes a moment to think about service, and what makes any single operator or crew person stand out from the rest. Sometimes it is the simple things that make the biggest impression.
She recently organised a project that involved broking five heavy jets from around the USA for a celebrity- attended event in Los Angeles, California. It goes without saying that the days leading up to the project were incredibly busy.
Catering for A-list celebrities can be quite challenging. Requirements tend to come in at the very last minute which can cause a panic to accommodate the order. At times like this a simple checking-in type call from a flight attendant can really be helpful for a broker.
For Scolari, that call came on the day before the charters were due to take place. She was scrambling around, trying to organise cars, catering, itineraries and last minute changes for all five charters. There was still so much to do.
It was during a trip to the grocery store where she was trying to second guess what might be required that she received a phone call from Leslie Ann Miller, a flight attendant with New Castle, Delaware operator Dumont Aviation on one of the brokered heavy jets, a Falcon 900. She was calling to say hello and to offer her help. She said she could assist on the catering side as there was a grocery store right next to the airport and she could pick up not only food supplies but anything else the passengers might need on-board.
A simple gesture, but it was one that meant the world to Scolari at that moment. Miller had taken the initiative to reach out, rather than wait to be asked. And since they were on the phone, they were also able to work out a plan to ensure the catering would be first class, even though with 24 hours to go there were still very few details in place.
"Together we came up with a good plan B while waiting on the actual order," says Scolari. "In the end the trip was flawless, simply because Leslie took the time to think outside the box. When I met her in person on the day of the charter I could see how much she truly loves her job. Going the extra mile, not only for the passengers but for the entire team, was very refreshing."
Contact details