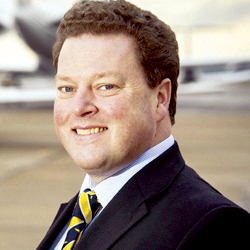 Under Richard Mumford, BACA is discussing the designation of airfields as brownfield sites for redevelopment and cost-sharing pilot platforms
News from BACA: Steaming towards expo success
A few weeks ago I was lucky enough to see the Flying Scotsman steam railway locomotive on its UK tour. It is possibly the most famous UK steam engine, known for being the first to exceed 100mph in 1934. Sadly, neither I nor BACA were around then to see it back then, but as I stood listening to its massive boiler gently venting steam, it reminded me a little of how BACA feels at present.
It has taken a good period of time since the first symposium in May 2015 to build up the pressure and momentum in the drive to help BACA deliver maximum value back to its members. However, right now we have so much happening, and such a buzz and feeling of excitement about it, that it did remind me of the Flying Scotsman, boiler bursting at the seams, just waiting to power out of the station.
With a record attendance at the spring luncheon, record sponsorship of our EBACE drinks reception and record sales for ACE17, I am delighted to report that things seems to be going well. I am personally delighted to see BACA thriving in this way, and hope that we can continue to press on to bigger and better things in the near future.
There is no better example of this momentum than our experience at EBACE this year. We are grateful for all the press coverage and attention we received. I am particularly grateful to Aviation Week for naming me one of their top 10 Leaders of European Business Aviation. Another great surprise was the success of our networking reception at the Mr Pickwick pub in Geneva. The event was overrun with guests, with an estimated 500 or more attending during the course of the evening. I am sorry to all those who had to queue for their drinks at the bar.
Our focus for the next three months is on preparations for ACE17 on 12 September at London Biggin Hill airport. This is a truly groundbreaking event for BACA. There has never before been an event including a conference, exhibition space and static display focused directly on the air charter market and on air charter brokers.
Air charter brokers are responsible for putting many aircraft owners on their first corporate aircraft and are on the front line in inspiring the flying customer to choose a particular manu-facturer, operator or aircraft type. Many routes will give brokers a choice as to aircraft manufacturers, types and fit-outs. ACE17 therefore provides a perfect opportunity for operators to get their products in front of operational brokers and to enthuse them with their products.
There are a number of key issues being discussed in the market at present, including the designation of airfields as brownfield sites for redevelopment. BACA takes the view that we would regret building over the UK's airfields, particularly given the rapidly developing air taxi market and introduction of SET ops.
This year is also seeing a major rise in the 'shared cost' general aviation market, with the development of platforms for pilots to advertise cost-sharing flights. BACA does not seek to stifle the general aviation market, but it is clear that many of the flights being offered are, in reality, commercial charter flights. As such the Council welcomes the views of its members in relation to the legality and operation of these markets, so that we might take appropriate action to ensure that flying customers are adequately protected.
Richard Mumford, chairman, BACA
Contact details